Simply GREEN
A quick guide to energy and environmental assessment certifications of buildings
Summary
A quick guide to the international environmental classification schemes, written in an intelligible way. Target groups for this book are real estate owners and all persons who want to know more about the building certification systems. In total, the book describes thirteen certification systems of which four are only covered briefly. The authors suggest that this book can be used primarily for orientation purposes and as a basis for helping to decide which system to use.
Content of the book
This book discusses six environmental and three purely energy-based certification systems along with briefly discussing four other certification systems:
British BREEAM Assessment Method
US LEED Rating System
German DGNB Certification System
Australian Green Star Rating System
Swedish Miljöbyggnad system
French HQE system
European Green Building Programme
Swiss Minergie Building Standard
German Passive House (Passivhaus) Standard
Japanese CASBEE assessment system
Indian IGBC rating system
US ENERGY STAR program
French Effinergie system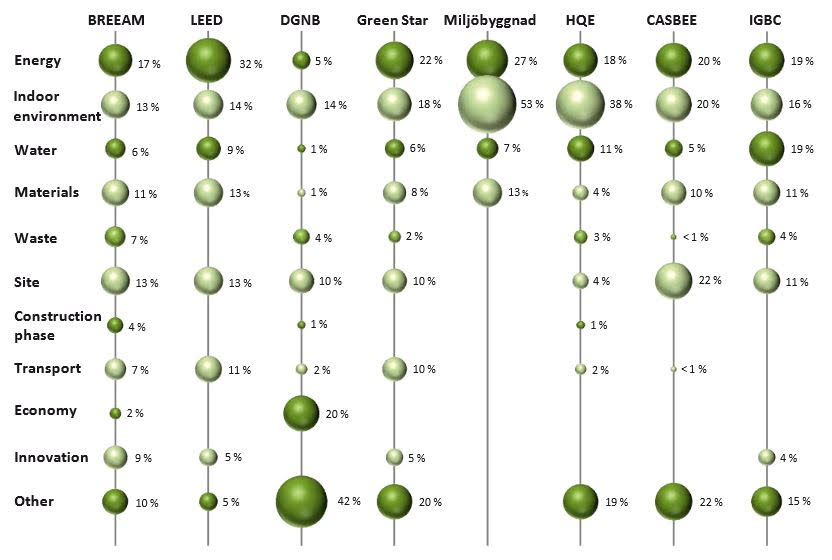 In this publication I am struck by the way a complex field is reduced to simple language and straightforward principles and facts. Too often building certification is mired by excessive technical description and construction jargon. In the spirit of knowledge sharing and technological exchange, Swegon Air Academy has served Europe's construction industry well by funding this simple GREEN guide to environmental and energy certification.

Brian Edwards, Professor Emeritus
Authors: Daniel Olsson, Catrin Heincke and Conny Nilsson
Publisher: Swegon Air Academy
Price: € 5 (for paper edition), € 0 (free in PDF-format)
Language: English, Swedish
Published in 2012
Download Simply GREEN by Swegon Air Academy
The assessment of buildings has seen considerable growth over the past decades. Certification has a big impact on how buildings are designed and engineered, how they are constructed and serviced, and how they are valued on completion.
The assessment of the buildings from an environmental and energy perspective can be a complex business. It brings together many key stakeholders such as architects, engineers, constructors, clients, representatives of building users and property valuers.
Download the book Simply GREEN